It's that time of year again, where the weather doesn't know what to do, people in your office are getting sick…and you're trying to avoid getting sick.
What if there was a way to help manage your stress, boost your brain power at work through these upcoming cold months, and improve your overall well-being?
Reflexology is the answer.
What is Reflexology?
Imagine there are connection zones between your hands and feet that represent certain areas of your body and can be adjusted or managed through these specific zones! By massaging and giving an appropriate amount of pressure of the feet and hands, that the corresponding organ or body part will be energized and rejuvenated. Reflexology is used to restore and maintain your body's natural balance to help improve overall well-being, it is one of the safest and least invasive alternative therapeutic practices available today.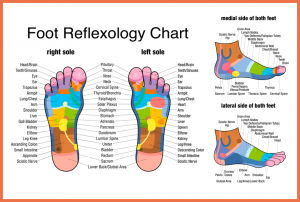 What are the benefits?
Decrease musculoskeletal pain
Decrease symptoms of insomnia
Decrease migraines and headaches
Improve stress and anxiety
Improved relaxation and enhanced wellness
Decreased pain and improved body function
Promotes self-healing
Always on the go?
Take some time to reduce stress
Stress contributes up to 80% for the development of any illness, reflexology offers stress reduction
Reflexology is a way to interrupt the pattern of repetitive stress that people have in their lifestyle
Sit In Front of a computer for work?
Reduces the severity of migraines and headaches
Reflexology opens neural pathways and allows a free-flowing activity that will result in a more relaxed state in the body and mind.
Help improve sleep as it will help the body relax and return to its healthy circadian rhythms
Relieve tension in the muscles that are induced in the physical symptoms of a migraine
What can you take-away from this article?
Take some time for yourself during and focus on your overall well-being
By reducing stress now, you will decrease the likelihood of developing other illness, boost your immune system and feel awesome everyday.